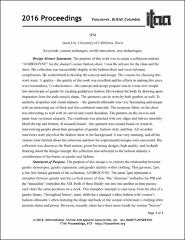 Series
International Textile and Apparel Association (ITAA) Annual Conference Proceedings
The first national meeting of textile and clothing professors took place in Madison, Wisconsin in June 1959. With a mission to advance excellence in education, scholarship and innovation, and their global applications, the International Textile and Apparel Association (ITAA) is a professional and educational association of scholars, educators, and students in the textile, apparel, and merchandising disciplines in higher education.
This site provides free, public access to the ITAA annual conference proceedings beginning in 2015. Previous proceedings can be found by following the "Additional ITAA Proceedings" link on the left sidebar of this page.
Abstract
The purpose of this design is to explore the relationship between gender stereotypes, gender expression, and gender identity within clothing. This garment, 2pm, is the first female garment of the collection, ANDROGYNE. The name 2pm represents a metaphor between gender and the cyclical nature of time. The "feminine†embodies the PM and the "masculine†embodies the AM. Both of these fluidly run into one another as time passes; each share the same positions on a clock. This metaphor attempts to step away from the idea of a gender binary. This is a piece that heavily borrows from male figure stereotypes and the shape of body builders. The garment plays on the idea of the hyper-muscular male and attempts to borrow this silhouette and force it upon a woman. The use of neoprene, a synthetic rubber material often found in wetsuits adds to the bulk and overall athletic visual.
Subject Categories
Collections