Impressions of Young Persons Wearing Hearing Aids and Eye Glasses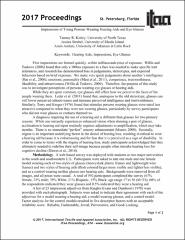 Series
International Textile and Apparel Association (ITAA) Annual Conference Proceedings
The first national meeting of textile and clothing professors took place in Madison, Wisconsin in June 1959. With a mission to advance excellence in education, scholarship and innovation, and their global applications, the International Textile and Apparel Association (ITAA) is a professional and educational association of scholars, educators, and students in the textile, apparel, and merchandising disciplines in higher education.
This site provides free, public access to the ITAA annual conference proceedings beginning in 2015. Previous proceedings can be found by following the "Additional ITAA Proceedings" link on the left sidebar of this page.
Abstract
First impressions are formed quickly, within milliseconds of exposure. Eye glasses are quite common, yet they still affect how we perceive the faces of the people wearing them. While less common, a diagnosis requiring the use of a hearing aid is different than glasses because (1) acclimation to hearing aid input routinely requires adjustments to amplification, which may take months, and (2) stigma is an important underlying factor in the denial of hearing loss, resulting in refusal to wear a hearing aid for fear that it is perceived as a sign of disability. This survey of college students found that glasses and hearing aids do affect the impression one makes on others.
Subject Categories
Collections