Insta-shopping: Examining use of Instagram for shopping online using Theory of Reasoned Action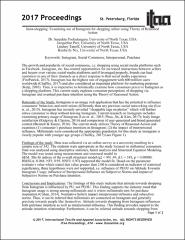 Series
International Textile and Apparel Association (ITAA) Annual Conference Proceedings
The first national meeting of textile and clothing professors took place in Madison, Wisconsin in June 1959. With a mission to advance excellence in education, scholarship and innovation, and their global applications, the International Textile and Apparel Association (ITAA) is a professional and educational association of scholars, educators, and students in the textile, apparel, and merchandising disciplines in higher education.
This site provides free, public access to the ITAA annual conference proceedings beginning in 2015. Previous proceedings can be found by following the "Additional ITAA Proceedings" link on the left sidebar of this page.
Abstract
The growth and popularity of social commerce has created opportunities for increased interactions between sellers and buyers over various social media platforms. Instagram has the highest rate of engagement and is also considered an important platform for marketing purposes. The current study utilized Theory of Reasoned Action and examined (1) consumer's purchase intention on Instagram; (2) the impact of interpersonal influence. Data was collected via an online survey at a university resulting in a sample size of 342. Data was analyzed using descriptive statistics, factor analysis and Structural Equation Modeling. The findings of this study indicate: (1) Instagram use is influenced by PU, not PEOU; (2) Normative beliefs impact interpersonal influence and subjective norms; (3) Attitude towards shopping from Instagram influences both purchase intention as well as interpersonal influence; (4) Interpersonal influence does not impact subjective norms; and (5) purchase intention is influence by interpersonal influence.
Subject Categories
Collections