Consumers' knowledge gain of environmental sustainability issue pertaining to textile and apparel industry through social networking site engagement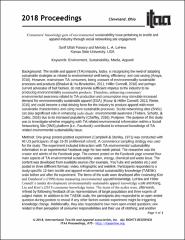 Series
International Textile and Apparel Association (ITAA) Annual Conference Proceedings
The first national meeting of textile and clothing professors took place in Madison, Wisconsin in June 1959. With a mission to advance excellence in education, scholarship and innovation, and their global applications, the International Textile and Apparel Association (ITAA) is a professional and educational association of scholars, educators, and students in the textile, apparel, and merchandising disciplines in higher education.
This site provides free, public access to the ITAA annual conference proceedings beginning in 2015. Previous proceedings can be found by following the "Additional ITAA Proceedings" link on the left sidebar of this page.
Abstract
The study investigated social networking site's role on improving consumer's knowledge of textile and apparel (TA) environmental sustainability. A one group pretest-posttest experiment was conducted with a convenience sample of 46 US individuals aged 18-35 (millennial cohort). The experiment included participant's interaction with TA environmental sustainability informational postings on a Facebook page for two weeks. The content of the postings was developed from available sources (e.g., YouTube, websites etc..) and covered four main aspects of TA environmental sustainability: water, energy, chemical and waste. The knowledge of the participants was measured with a study-specific textile and apparel environmental sustainability knowledge (TAESK) scale before and after the experiment. Data analysis included Wilcoxon Signed-Rank test and descriptive statistics. The findings revealed that the knowledge of the participants increased significantly after their interaction with the Facebook page postings. The study has both managerial and pedagogical implications as related to TA environmental sustainability.
Subject Categories
Collections