Design Scholarship: What is it and How Does it Count (for Tenure)?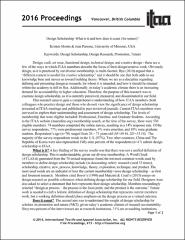 Series
International Textile and Apparel Association (ITAA) Annual Conference Proceedings
The first national meeting of textile and clothing professors took place in Madison, Wisconsin in June 1959. With a mission to advance excellence in education, scholarship and innovation, and their global applications, the International Textile and Apparel Association (ITAA) is a professional and educational association of scholars, educators, and students in the textile, apparel, and merchandising disciplines in higher education.
This site provides free, public access to the ITAA annual conference proceedings beginning in 2015. Previous proceedings can be found by following the "Additional ITAA Proceedings" link on the left sidebar of this page.
Abstract
Design, craft, art wear, functional design, technical design, and creative design - these are a few of the ways in which ITAA members describe the focus of their design/creative work. Obviously design, as it is practiced by our diverse membership, is multi-faceted. Bye (2010) argued that a "different context is needed for creative scholarship, and it should be one that both adds to our knowledge base and moves us toward building theory. Where we are as a discipline regarding defining and presenting design as research, for whom it is intended, and how it should be situated within the academy is still in flux. Additionally, in today's academic climate there is an increasing demand for accountability in higher education. Therefore, the purpose of this research was to examine design scholarship, as it is currently perceived, measured, and disseminated in our field.
Collections