Exploring Outdoor Lifestyle Brands within the Americana Music Festival Marketplace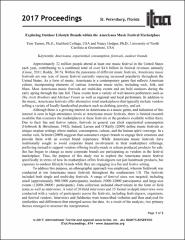 Series
International Textile and Apparel Association (ITAA) Annual Conference Proceedings
The first national meeting of textile and clothing professors took place in Madison, Wisconsin in June 1959. With a mission to advance excellence in education, scholarship and innovation, and their global applications, the International Textile and Apparel Association (ITAA) is a professional and educational association of scholars, educators, and students in the textile, apparel, and merchandising disciplines in higher education.
This site provides free, public access to the ITAA annual conference proceedings beginning in 2015. Previous proceedings can be found by following the "Additional ITAA Proceedings" link on the left sidebar of this page.
Abstract
While Americana music festivals have traditionally sought to avoid corporate brand involvement in their marketplace offerings, preferring instead to support vendors offering locally-made or artisan produced products for sale, this has begun to change as more corporate brands are participating as vendors in the festival marketplace. This research explores outdoor lifestyle brands within the Americana music festival marketplace, specifically in terms of how its marketplace offers festivalgoers not just handmade products, but exposure to outdoor lifestyle brands in an experiential setting. An ethnographic approach was employed, wherein fieldwork was conducted at ten Americana music festivals throughout the southeastern US. In-depth interviews were conducted with a variety of participants across the festivals, including festivalgoers, organizers, and festival vendors. Findings of this study offer insight into how outdoor lifestyle brands have begun to recognize the Americana music festival marketplace as a way to incorporate the brand experience into the festival experience.
Subject Categories
Collections