Exploring Naive Spatial Understanding in Patternmaking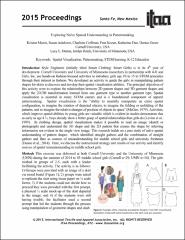 Series
International Textile and Apparel Association (ITAA) Annual Conference Proceedings
The first national meeting of textile and clothing professors took place in Madison, Wisconsin in June 1959. With a mission to advance excellence in education, scholarship and innovation, and their global applications, the International Textile and Apparel Association (ITAA) is a professional and educational association of scholars, educators, and students in the textile, apparel, and merchandising disciplines in higher education.
This site provides free, public access to the ITAA annual conference proceedings beginning in 2015. Previous proceedings can be found by following the "Additional ITAA Proceedings" link on the left sidebar of this page.
Abstract
In clothing design, spatial visualization makes it possible to read an image (sketch or photograph) and understand the 3D shape and the 2D pattern that creates the shape by inferring information not evident in the single view image. This research builds on a past study of naïve spatial understanding of pattern shapes which identified straight gathers and the combination of straight gathers and flare as sources of misunderstanding for middle school girls and university freshmen (Dunne et al., 2014). Here, we discuss the instructional strategy and results of our activity and identify sources of spatial misunderstanding in middle school girls.
Collections