Edge Weld Penetration Assessment via Electric Current Deflection Measurements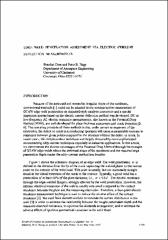 Series
Review of Progress in Quantitative Nondestructive Evaluation
Begun in 1973, the Review of Progress in Quantitative Nondestructive Evaluation (QNDE) is the premier international NDE meeting designed to provide an interface between research and early engineering through the presentation of current ideas and results focused on facilitating a rapid transfer to engineering development.
This site provides free, public access to papers presented at the annual QNDE conference between 1983 and 1999, and abstracts for papers presented at the conference since 2001.
Abstract
Because of the awkward and somewhat irregular shape of the weldment, conventional methods [1] could not be adapted to the nondestructive measurement of GTAW edge weld penetration on clamshell-style catalytic converters and a special inspection system based on the electric current deflection method was developed. DC or low-frequency AC electric resistance measurements, also known as the Potential Drop Method (PDM), are well-developed for plate thickness assessment and crack detection [2–6]. The operating principle of these methods is that, under certain arrangement of the electrodes, the defect or crack in a conducting specimen will cause a measurable increase in resistance between given points compared to the situation without the defect or crack. In recent years, this simple contact technique was largely obscured by more sophisticated noncontacting eddy-current techniques especially in industrial applications. In this article, we demonstrate the distinct advantages of the Potential Drop Method through the example of GTAW edge welds where the awkward shape of the specimens and the required large penetration depth render the eddy-current method less feasible.
Subject Categories
Copyright
Wed Jan 01 00:00:00 UTC 1997
Collections