Limited View Guided Wave Tomography Based on Full Waveform Inversion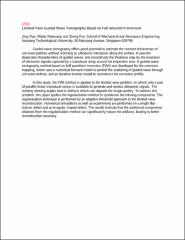 Series
Review of Progress in Quantitative Nondestructive Evaluation
Begun in 1973, the Review of Progress in Quantitative Nondestructive Evaluation (QNDE) is the premier international NDE meeting designed to provide an interface between research and early engineering through the presentation of current ideas and results focused on facilitating a rapid transfer to engineering development.
This site provides free, public access to papers presented at the annual QNDE conference between 1983 and 1999, and abstracts for papers presented at the conference since 2001.
Abstract
Guided wave tomography offers good potential to estimate the remnant thicknesses of corrosion patches without scanning an ultrasonic transducer along the surface. It uses the dispersion characteristics of guided waves, and reconstructs the thickness map by the inversion of ultrasonic signals captured by a transducer array around the inspection area. A guided wave tomography method based on full waveform inversion (FWI) was developed for the corrosion mapping, which uses a numerical forward model to predict the scattering of guided wave through corrosion defects, and an iterative inverse model to reconstruct the corrosion profile.
In this study, the FWI method is applied to the limited view problem, in which only a pair of parallel linear transducer arrays is available to generate and receive ultrasonic signals. The missing viewing angles lead to artifacts which can degrade the image quality. To address this problem, this paper applies the regularization method to synthesize the missing components. The regularization technique is performed by an adaptive threshold approach to the limited view reconstruction. Numerical simulations as well as experiments are performed on a single flat-bottom defect and an irregular shaped defect. The results indicate that the additional components obtained from the regularization method can significantly reduce the artifacts, leading to better reconstruction accuracy.
Subject Categories
Collections