Sensing Lower Body Lifting Posture through Disposable Sensing Coveralls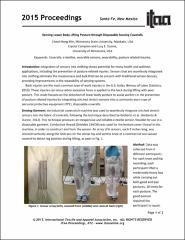 Series
International Textile and Apparel Association (ITAA) Annual Conference Proceedings
The first national meeting of textile and clothing professors took place in Madison, Wisconsin in June 1959. With a mission to advance excellence in education, scholarship and innovation, and their global applications, the International Textile and Apparel Association (ITAA) is a professional and educational association of scholars, educators, and students in the textile, apparel, and merchandising disciplines in higher education.
This site provides free, public access to the ITAA annual conference proceedings beginning in 2015. Previous proceedings can be found by following the "Additional ITAA Proceedings" link on the left sidebar of this page.
Abstract
Back injuries are the most common type of work injuries in the U.S. today (Bereau of Labor Statistics, 2013). These injuries can occur when excessive force is applied to the back during lifting with poor posture. This study focuses on the detection of lower body posture to assist workers in the prevention of posture related injuries by integrating stitched stretch sensors into a commonly worn type of personal protective equipment (PPE), disposable coveralls.
Subject Categories
Collections