A Comparison of the Ability of Phase-Insensitive and Phase-Sensitive Ultrasonic Receivers to Detect Material Abnormalities Beneath Rough Surfaces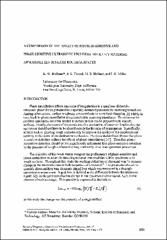 Series
Review of Progress in Quantitative Nondestructive Evaluation
Begun in 1973, the Review of Progress in Quantitative Nondestructive Evaluation (QNDE) is the premier international NDE meeting designed to provide an interface between research and early engineering through the presentation of current ideas and results focused on facilitating a rapid transfer to engineering development.
This site provides free, public access to papers presented at the annual QNDE conference between 1983 and 1999, and abstracts for papers presented at the conference since 2001.
Abstract
Phase cancellation effects can occur if irregularities in a specimen distort the ultrasonic phase fronts presented to a spatially extended piezoelectric receiving transducer. Among other causes, surface roughness can contribute to wavefront distortion [1] which, in turn, leads to phase cancellation at a piezoelectric receiving transducer. To minimize this problem specimens are often limited to materials that can be prepared with smooth surfaces. Ideally, the nature of the nondestructive evaluation of materials implies that the specimens should not have to be altered merely for the sake of examination. Specifically, actions such as grinding rough surfaces only to improve the quality of the inspection are contrary to the spirit of nondestructive evaluation. Previous studies have shown that phaseinsensitive detection reduces the effects of phase cancellation [2–5]. Therefore phaseinsensitive detection should be less significantly influenced than phase-sensitive detection by the presence of rough surfaces that may commonly arise from specimen production.
Subject Categories
Copyright
Thu Jan 01 00:00:00 UTC 1998
Collections