Plasma Spray Deposition: A Need for Direct Process Control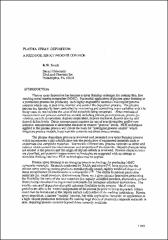 Series
Review of Progress in Quantitative Nondestructive Evaluation
Begun in 1973, the Review of Progress in Quantitative Nondestructive Evaluation (QNDE) is the premier international NDE meeting designed to provide an interface between research and early engineering through the presentation of current ideas and results focused on facilitating a rapid transfer to engineering development.
This site provides free, public access to papers presented at the annual QNDE conference between 1983 and 1999, and abstracts for papers presented at the conference since 2001.
Abstract
Plasma spray deposition has become a spray forming technique for making thin, free standing metal matrix composites (MMC). Successful application of plasma spray forming as a production process for producing such highly engineered materials will require process controls which can, in real time, monitor and control the deposition process. The plasma process has historically been controlled by monitoring and controlling input variables which in many cases do not indicate the state of the materials being processed Direct methods of measurement and process control are needed, including plasma jet temperature, plasma jet velocity, particle temperature, deposit temperature, deposit thickness, deposit density and deposit defect levels. Direct measurement requires the use of non-destructive and/or non-intrusive measurements to determine absolute or relative "process" levels. NDE techniques applied to the plasma process will create the basis for "intelligent process control" which integrates process models, input variable controls and direct measurements.
Subject Categories
Copyright
Sun Jan 01 00:00:00 UTC 1989
Collections