Impact Damage and Hygrothermal Effects on Fatigue Bending Strength of Orthotropy Composite Laminates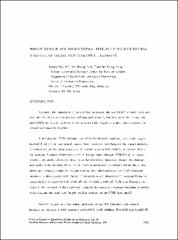 Series
Review of Progress in Quantitative Nondestructive Evaluation
Begun in 1973, the Review of Progress in Quantitative Nondestructive Evaluation (QNDE) is the premier international NDE meeting designed to provide an interface between research and early engineering through the presentation of current ideas and results focused on facilitating a rapid transfer to engineering development.
This site provides free, public access to papers presented at the annual QNDE conference between 1983 and 1999, and abstracts for papers presented at the conference since 2001.
Abstract
Currently the importance of carbon-fiber reinforced plastics (CFRP) in both space and civil aircraft, which require superior stiffness and strength, has been generally recognized, and CFRPs are widely used due to the ultimate light weight to weight ratios compared to conventional metallic materials.
Copyright
Fri Jan 01 00:00:00 UTC 1999
Collections