The Rise of Athleisure and Its Impact on lululemon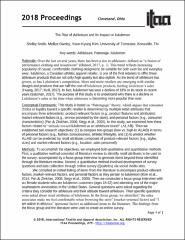 Series
International Textile and Apparel Association (ITAA) Annual Conference Proceedings
The first national meeting of textile and clothing professors took place in Madison, Wisconsin in June 1959. With a mission to advance excellence in education, scholarship and innovation, and their global applications, the International Textile and Apparel Association (ITAA) is a professional and educational association of scholars, educators, and students in the textile, apparel, and merchandising disciplines in higher education.
This site provides free, public access to the ITAA annual conference proceedings beginning in 2015. Previous proceedings can be found by following the "Additional ITAA Proceedings" link on the left sidebar of this page.
Abstract
Over the last several years, there has been a rise in athleisure, defined as "a fusion of performance clothing and leisurewear" (Hahnel, 2017, p. 1). This trend reflects increasing popularity of casual, comfortable clothing designed to be suitable for both exercise and everyday wear. lululemon, a Canadian athletic apparel retailer, is one of the first retailers to offer these athleisure products that are not only high quality but also stylish. As the trend of athleisure has grown, so has Lululemon's competition. More and more retailers are emerging with similar designs and products that are half the cost of lululemon products, hurting lululemon's sales (Huang, 2017; Kell, 2017). In fact, lululemon has seen a decline of 18% in its stock in recent years (Salzman, 2017). The purpose of this study is to understand why there is a decline in Lululemon's sales at the time when athleisure is becoming more popular than ever.
Subject Categories
Collections