Diversity & Inclusion Unconference Session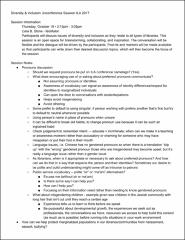 Department
Reference and Instruction
University Library
Abstract
Session Information:
Participants will discuss issues of diversity and inclusion as they relate to all types of libraries. This session is an open space for brainstorming, collaborating, and inspiration. The conversation will be flexible and the dialogue will be driven by the participants. Post-its and markers will be made available so that participants can write down their desired discussion topics, which will then become the focus of the session.
Comments
This presentation can be sited as Stone, C. (2017, October). Diversity & inclusion unconference session. Session facilitator at the Iowa Library Association Conference, Coralville, IA.
Subject Categories
Copyright
Sun Jan 01 00:00:00 UTC 2017
Collections