Comparison of LiDAR 5m Resolution Digital Elevation Model (DEM) Derived Stream Flow Network to Ground-Truthed 5m Resolution DEM Stream Flow Network Data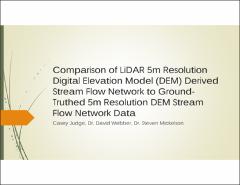 Series
Symposium on Undergraduate Research and Creative Expression
The Symposium provides undergraduates from all academic disciplines with an opportunity to share their research with the university community and other guests through conference-style oral presentations. The Symposium represents part of a larger effort of Iowa State University to enhance, support, and celebrate undergraduate research activity.
Though coordinated by the University Honors Program, all undergraduate students are eligible and encouraged to participate in the Symposium. Undergraduates conducting research but not yet ready to present their work are encouraged to attend the Symposium to learn about the presentation process and students not currently involved in research are encouraged to attend the Symposium to learn about the broad range of undergraduate research activities that are taking place at ISU.
The first Symposium was held in April 2007. The 39 students who presented research and their mentors collectively represented all of ISU's Colleges: Agriculture and Life Sciences, Business, Design, Engineering, Human Sciences, Liberal Arts and Sciences, Veterinary Medicine, and the Graduate College. The event has grown to regularly include more than 100 students presenting on topics that span the broad range of disciplines studied at ISU.
Department
Agricultural and Biosystems Engineering
Abstract
As higher resolution Digital Elevation Model (DEM) data has become available, more accurate stream flow networks depicting flowpaths through a field generated from GIS hydrologic simulation modeling of agricultural surface runoff have identified an area of Vegetative Filter Strip (VFS) buffer runoff interception performance deficiency. The simulated flow networks derived from 30m resolution DEM data varies greatly from the ground-truthed flow network due to the occurrence of rills and gullies. If VFS designs are to be modified to manage the concentrated runoff flow, researchers need to have reliable and manageable means with which to develop these flow models. The technique of utilizing airborne LiDAR data, which has been shown to be both horizontally and vertically accurate within acceptable parameters, may be an accurate data source with which to derive these stream flow networks. This project examines a 5x5m grid resolution LiDAR DEM (derived from 1x1m resolution dataset) to an on-site collected, 5x5m resolution stream flow network. The resulting Coefficient of Linear Correspondence (CLC) ratio between the two stream flow networks was lower than anticipated, indicating a greater deviation of the LiDAR derived flowpath from the true flowpath than expected. Additional research is required to determine the nature of these deviations.
Subject Categories
Collections