Exploring the organizational emergence of academic leadership programs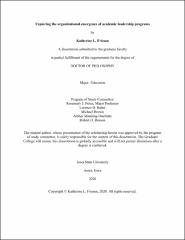 Altmetrics
Abstract
The number of academic leadership programs that have emerged across institutions of higher education in the United States has grown. In doing so, programs have emerged within college and universities in disparate locations, not reflective of more rigid disciplinary norms and practices. This dissertation sought to explore the emergence of academic leadership programs through the study of two academic leadership programs with undergraduate degrees in research intensive universities, situated differently within their institutions.
The findings empirically establish academic leadership programs as organizations whose emergence was influenced by the institutionalized hierarchy of disciplines and structures of higher education. Programs with degrees were not already in existence within the universities, but were established out of the desire or need to certify leadership knowledge. Programs established organizational niches in leadership knowledge and connected their purpose the mission and culture of their institutions, seeking legitimacy among other leadership programs or for departments facing uncertainty. The institutionalized structures of higher education signaled what was possible and what was expected of programs as they emerged. The types of degrees programs developed and their engagement in the functions of higher education were determined by where they emerged within their institutions and how they organized program activities. In addition, the findings established leadership as an interdisciplinary area of study, engaging disciplines, fields of study, and non-academic units in program delivery, and revealed the influence of institutionalized structures of higher education on the interdisciplinary organization of each program.
This study provides insight into how similar institutional influences developed different organizational and interdisciplinary structures of academic leadership programs. How programs emerged and organized within their universities has implications for the constraints and threats to the stabilization of organizational activities in leadership teaching, research, and service, and the evolution of programs and leadership as an area of study. In doing so, it calls for more the strategic study of and approach to the development of interdisciplinary purpose and process, advocating to administrators, more articulately, the value of interdisciplinary programs, like leadership, and their contribution to disciplines, fields of study, and non-academic units, the institutional mission and culture of universities, and student learning and experiences in such programs.
Copyright
Fri May 01 00:00:00 UTC 2020
Collections