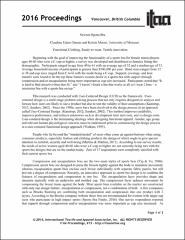 Series
International Textile and Apparel Association (ITAA) Annual Conference Proceedings
The first national meeting of textile and clothing professors took place in Madison, Wisconsin in June 1959. With a mission to advance excellence in education, scholarship and innovation, and their global applications, the International Textile and Apparel Association (ITAA) is a professional and educational association of scholars, educators, and students in the textile, apparel, and merchandising disciplines in higher education.
This site provides free, public access to the ITAA annual conference proceedings beginning in 2015. Previous proceedings can be found by following the "Additional ITAA Proceedings" link on the left sidebar of this page.
Abstract
The Newton bra marries strength and stability with an attractive design in providing the ultimate movement reduction for large cup women participating in high impact sports. Using a qualitative survey of 17 participants, the research aimed to identify the features most desired in a sports bra for women 40-60 who wear a C-cup or larger. The most important attribute was to reduce or eliminate movement. Following a user-centered design framework, the Newton Bra incorporates an elastic band constructed to diminish the upward movement of the breast tissue. The bra design employs a 2-layer system of encapsulation with an additional outer layer of compression which includes the axillary (underarm) area. Thus, Newton's Law is proven true- what does not go up, will not come down.
Subject Categories
Collections