Closed-Loop Radiographic Process Control of ARC Welding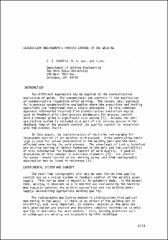 Series
Review of Progress in Quantitative Nondestructive Evaluation
Begun in 1973, the Review of Progress in Quantitative Nondestructive Evaluation (QNDE) is the premier international NDE meeting designed to provide an interface between research and early engineering through the presentation of current ideas and results focused on facilitating a rapid transfer to engineering development.
This site provides free, public access to papers presented at the annual QNDE conference between 1983 and 1999, and abstracts for papers presented at the conference since 2001.
Abstract
Two different approaches may be applied to the nondestructive evaluation of welds. The conventional one consists in the application of nondestructive inspection after welding. The second, new, approach is in-process nondestructive evaluation where the production and testing operations are integrated into a single procedure. In this combined approach information received from nondestructive evaluation may be used in feedback with other process parameters for process control. Such a concept gives a significant cost saving [1]. Because the non-destructive system is included as a part of the sensing system in the feedback loop of the process control the quality control is integrated with the process itself.
Subject Categories
Copyright
Sun Jan 01 00:00:00 UTC 1989
Collections