Waterfall: A co-design challenge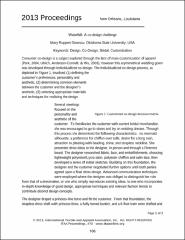 Series
International Textile and Apparel Association (ITAA) Annual Conference Proceedings
The first national meeting of textile and clothing professors took place in Madison, Wisconsin in June 1959. With a mission to advance excellence in education, scholarship and innovation, and their global applications, the International Textile and Apparel Association (ITAA) is a professional and educational association of scholars, educators, and students in the textile, apparel, and merchandising disciplines in higher education.
This site provides free, public access to the ITAA annual conference proceedings beginning in 2015. Previous proceedings can be found by following the "Additional ITAA Proceedings" link on the left sidebar of this page.
Abstract
Consumer co-design is a subject explored through the lens of mass-customization of apparel (Park, 2004, Ulrich, Anderson-Connell, & Wu, 2003), however this asymmetrical wedding gown was developed through individualized co-design. The individualized co-design process, as depicted in Figure 1, involved (1) defining the customer's preferences, personality and aesthetic, (2) determining common elements between the customer and the designer's aesthetic, (3) selecting appropriate materials and techniques for realizing the design.
Subject Categories
Collections