Sub-Bandgap Laser Probing of GaAs Devices and Circuits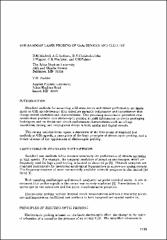 Series
Review of Progress in Quantitative Nondestructive Evaluation
Begun in 1973, the Review of Progress in Quantitative Nondestructive Evaluation (QNDE) is the premier international NDE meeting designed to provide an interface between research and early engineering through the presentation of current ideas and results focused on facilitating a rapid transfer to engineering development.
This site provides free, public access to papers presented at the annual QNDE conference between 1983 and 1999, and abstracts for papers presented at the conference since 2001.
Abstract
Standard methods for measuring solid-state device and circuit performance are inadequate at GHz speeds because they introduce parasitic inductances and capacitances that change circuit operation and characteristics. One promising noninvasive procedure that avoids these problems uses electro-optic probing to yield information on device packaging techniques; and on device and circuit performance characteristics such as voltage waveforms, timing, and propagation delays in both analog and digital circuits.
Subject Categories
Copyright
Fri Jan 01 00:00:00 UTC 1988
Collections