Development of a Novel System for Recombineering in Mycoplasma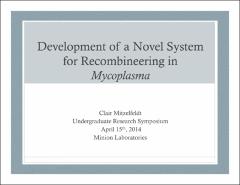 Series
Symposium on Undergraduate Research and Creative Expression
The Symposium provides undergraduates from all academic disciplines with an opportunity to share their research with the university community and other guests through conference-style oral presentations. The Symposium represents part of a larger effort of Iowa State University to enhance, support, and celebrate undergraduate research activity.
Though coordinated by the University Honors Program, all undergraduate students are eligible and encouraged to participate in the Symposium. Undergraduates conducting research but not yet ready to present their work are encouraged to attend the Symposium to learn about the presentation process and students not currently involved in research are encouraged to attend the Symposium to learn about the broad range of undergraduate research activities that are taking place at ISU.
The first Symposium was held in April 2007. The 39 students who presented research and their mentors collectively represented all of ISU's Colleges: Agriculture and Life Sciences, Business, Design, Engineering, Human Sciences, Liberal Arts and Sciences, Veterinary Medicine, and the Graduate College. The event has grown to regularly include more than 100 students presenting on topics that span the broad range of disciplines studied at ISU.
Department
Veterinary Microbiology and Preventive Medicine
Abstract
Mycoplasmas are unique bacteria characterized by their lack of a cell wall and minimal genomes. They are the causative agent of many important human and animal diseases such as atypical pneumonia and contagious bovine pleuropneumonia. A general requirement of successful infection is the attachment of the bacteria to the tropic tissue by adhesins that are often poorly understood. We have designed a novel method of gene-specific recombineering in Mycoplasmas in an attempt to better understand their pathogenesis at the molecular level. Due to their lack of many biosynthetic pathways, growth of Mycoplasmas is tenuous at best making this research an arduous task. To overcome this obstacle, we will first test and optimize the experimental conditions in the model organism Escherichia coli. A unique tetracycline resistance cassette will be constructed by PCR and introduced site-specifically into RecA+ and RecA- E. coli using exogenous RecA-catalyzed recombination. Successful recombinants will be selected for by tetracycline resistance and screened for ß-galactosidase activity. Appropriate mutants will be antibiotic resistant and Lac– demonstrating the knockout of the ß-galactosidase gene lacZ. The outcome of these experiments will provide a flexible new technique for the study of Mycoplasmas.
Subject Categories
Collections