Noncontact Measurement of Applied Static Torque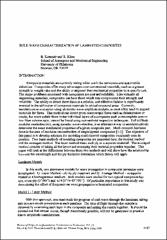 Series
Review of Progress in Quantitative Nondestructive Evaluation
Begun in 1973, the Review of Progress in Quantitative Nondestructive Evaluation (QNDE) is the premier international NDE meeting designed to provide an interface between research and early engineering through the presentation of current ideas and results focused on facilitating a rapid transfer to engineering development.
This site provides free, public access to papers presented at the annual QNDE conference between 1983 and 1999, and abstracts for papers presented at the conference since 2001.
Abstract
Schmidt and Zinke [1,2] have shown that the ac magnetic bridge can be used to make noncontact measurements of changes of strain in an axially loaded bar. Therefore, there seemed to be no a priori reason why the bridge could not be used to make noncontact measurements of shear stress produced by static torque. The results of such measurements are described here. A 2.54-cm cold-rolled steel bar was placed in a fixture and subjected to various applied torques. The measurements produced an initial transient signal followed by a changed static signal. The transient signal, which lasts the order of 6–8 seconds, seemed to be proportional to the rate of change of the application of torque although no quantitative measurements were made to prove this. The static signal, which was measured 30 seconds after the torque was applied, was proportional to the torque over the range of torques from 4 to 57 newton meters. If transient signals had been produced in the original linear stress tests [1,2], they would not have been noticed because of the technique of obtaining the data in those experiments.
Copyright
Mon Jan 01 00:00:00 UTC 1996
Collections