The Ultrasonic Detection of Environmental Degradation in Adhesive Joints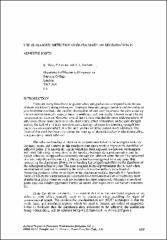 Series
Review of Progress in Quantitative Nondestructive Evaluation
Begun in 1973, the Review of Progress in Quantitative Nondestructive Evaluation (QNDE) is the premier international NDE meeting designed to provide an interface between research and early engineering through the presentation of current ideas and results focused on facilitating a rapid transfer to engineering development.
This site provides free, public access to papers presented at the annual QNDE conference between 1983 and 1999, and abstracts for papers presented at the conference since 2001.
Abstract
There are many benefits to be gained when using adhesives compared with the use of more traditional joining techniques. Amongst these advantages can be listed the ability to join dissimilar materials, the uniform distribution of load over the area of the joint avoiding stress concentrations, the improvement in aesthetics and, potentially, a lower-weight for the component or structure. However several factors have retarded the more widespread use of adhesives. These principally are (i) the detrimental effect of moisture on the joint strength and (ii) the lack of a suitable non-destructive testing technique for detecting strength loss due to environmental attack. It is the latter problem that the present work addresses. The focus of this work has been to examine the bonding of aluminium alloy to aluminium alloy, using an epoxy-based adhesive.
Copyright
Thu Jan 01 00:00:00 UTC 1998
Collections