Do students learn better using online testing with multiple attempts?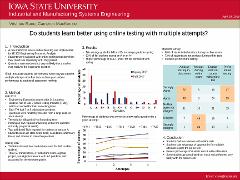 Series
IMSE Research Symposium
The Industrial and Manufacturing Systems Engineering Department supports research at all levels, and has had a formal Undergraduate Research Program since 2013. IMSE URA students have co-authored journal articles; presented their work at university, state, national, and international venues; and been acknowledged by the research community for their contributions. Each spring, the department hosts a Research Symposium, where approximately 50 undergraduate and 20 graduate students present their work.
Abstract
A new method to assess student learning was implemented for IE 305 Engineering Economic Analysis. Students were evaluated with online testing modules which they could take repeatedly until they passed. Questions were randomized; very unlikely that a student ever received the exact same question. Goal: Evaluate students' performance when they are allowed multiple attempts of online tests and compare student performance to traditional assessment methods.
Subject Categories
Collections