An Examination of Male Consumers' Attitude toward Using Fit Mass-customizationand Intention of buying Fit Mass-customized Apparel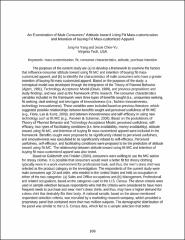 Series
International Textile and Apparel Association (ITAA) Annual Conference Proceedings
The first national meeting of textile and clothing professors took place in Madison, Wisconsin in June 1959. With a mission to advance excellence in education, scholarship and innovation, and their global applications, the International Textile and Apparel Association (ITAA) is a professional and educational association of scholars, educators, and students in the textile, apparel, and merchandising disciplines in higher education.
This site provides free, public access to the ITAA annual conference proceedings beginning in 2015. Previous proceedings can be found by following the "Additional ITAA Proceedings" link on the left sidebar of this page.
Abstract
The purposes of the current study are (a) to develop a framework to examine the factors that influence consumer attitude toward using fit MC and intention of buying fit masscustomized apparel, and (b) to identify the characteristics of male consumers who have a greater intention of buying fit mass-customized apparel. Based on the purposes of the study, a conceptual model was developed through the integration of the Theory of Planned Behavior (Ajzen, 1991), Technology Acceptance Model (Davis, 1989), and previous propositions and study findings, and was used as the framework of the research.
Subject Categories
Collections