Students' Perspective of Organic Chemistry Laboratory Course Designs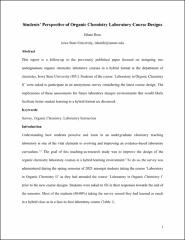 Publisher
Copyright The Authors 2022
Organizational Units
Center for the Integration of Research, Teaching, and Learning
The Center for the Integration of Research, Teaching, and Learning (CIRTL)'s mission is to enhance excellence in undergraduate education through the development of a national faculty committed to implementing and advancing effective teaching practices for diverse learners as part of successful and varied professional careers. It was established with the intent of preparing future science, technology, engineering, and mathematics (STEM) faculty across the nation, to ultimately improve the STEM learning of all students, at every college and university, and thereby to increase the diversity in STEM fields and the STEM literacy of the nation. The three CIRTL core ideas are Evidence-based Teaching, Learning Communities, and Learning-through-Diversity.
Department
Center for the Integration of Research, Teaching, and Learning
Chemistry
Abstract
This report is a follow-up to the previously published paper focused on designing two undergraduate organic chemistry laboratory courses in a hybrid format at the department of chemistry, Iowa State University (ISU). Students of the course 'Laboratory in Organic Chemistry II' were asked to participate in an anonymous survey considering the latest course design. The implications of these assessments for future laboratory designs environments that would likely facilitate better student learning in a hybrid format are discussed.
Keywords
Survey

,
Organic Chemistry

,
Laboratory Instructions
Collections