Generation Y's attitudes towards apparel labeled with organic, recycled and fair trade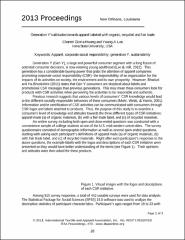 Series
International Textile and Apparel Association (ITAA) Annual Conference Proceedings
The first national meeting of textile and clothing professors took place in Madison, Wisconsin in June 1959. With a mission to advance excellence in education, scholarship and innovation, and their global applications, the International Textile and Apparel Association (ITAA) is a professional and educational association of scholars, educators, and students in the textile, apparel, and merchandising disciplines in higher education.
This site provides free, public access to the ITAA annual conference proceedings beginning in 2015. Previous proceedings can be found by following the "Additional ITAA Proceedings" link on the left sidebar of this page.
Abstract
Generation Y (Gen Y), a large and powerful consumer segment with a long future of potential consumer decisions, is now entering young adulthood (Lee & Hill, 2012). This generation has a considerable buying power that grabs the attention of apparel companies promoting corporate social responsibility (CSR)−the responsibility of an organization for the impacts of its activities on society, the environment and its own prosperity. However, Bhaduri and Ha-Brookshire (2011) states that Gen Y consumers are skeptical about labels and promotional CSR messages than previous generations. This may mean these consumers look for products with CSR activities when perceiving the activities to be reasonable and authentic.
Subject Categories
Collections