Uniform Eddy Current Probe with Little Disrupting Noise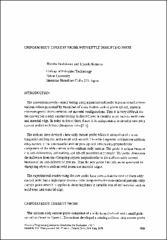 Series
Review of Progress in Quantitative Nondestructive Evaluation
Begun in 1973, the Review of Progress in Quantitative Nondestructive Evaluation (QNDE) is the premier international NDE meeting designed to provide an interface between research and early engineering through the presentation of current ideas and results focused on facilitating a rapid transfer to engineering development.
This site provides free, public access to papers presented at the annual QNDE conference between 1983 and 1999, and abstracts for papers presented at the conference since 2001.
Abstract
The conventional eddy current testing using a pancake coil probe is prone to suffer from various noises generated by variations of many factors such as probe lift-off, material electromagnetic characteristics and material configurations. Thus it is very difficult for the conventional eddy current testing to detect flaws in variable areas such as weld zone and material edge. In order to detect those flaws, it is indispensable to develop new eddy current probes with little disrupting noise[l–3].
Subject Categories
Copyright
Thu Jan 01 00:00:00 UTC 1998
Collections