Elastic Wave Scattering from Rough Surfaces and Cracks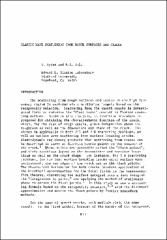 Series
Review of Progress in Quantitative Nondestructive Evaluation
Begun in 1973, the Review of Progress in Quantitative Nondestructive Evaluation (QNDE) is the premier international NDE meeting designed to provide an interface between research and early engineering through the presentation of current ideas and results focused on facilitating a rapid transfer to engineering development.
This site provides free, public access to papers presented at the annual QNDE conference between 1983 and 1999, and abstracts for papers presented at the conference since 2001.
Abstract
The scattering from rough surfaces and cracks in the high frequency regime is analyzed via a scattering formula based on the reciprocity relation. Scattering from the smooth cracks is investigated first to rederive the "flash point" concept by Fourier transform methods. Based on this analysis, an inversion procedure is proposed for obtaining the characteristic function of the crack, which, for the case of rough cracks, gives information about the roughness as well as the dimensions and shape of the crack. The theory is applicable to both 2-D and 3-D scattering problems, as well as surface wave scattering from surface breaking cracks. Elastodynamic ray theory predicts that scattering from cracks can be described in terms of discrete source points on the contour of the crack.1 These points are generally called the "flash points", and their positions depend on the transmitter and receiver locations as well as the crack shape. For instance, for 2-D scattering problems, (or for deep surface breaking cracks under surface wave excitation), the two edges of the crack act as the flash points.
Subject Categories
Copyright
Sat Jan 01 00:00:00 UTC 1983
Collections