Livestock marketing methods in Denmark, Great Britain and Canada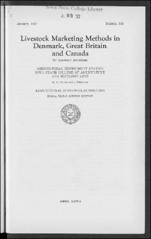 Journal Issue
Department
Extension and Experiment Station Publications
Abstract
This bulletin is a report of some recent developments in livestock marketing practices abroad.
Several years ago we began to feel that our livestock marketing research would benefit from an investigation of marketing methods in other countries. Accordingly, while I was visiting several European countries during the last 4 months of 1935, I paid particular attention to their livestock marketing methods. Two countries were particularly interesting—Denmark, which has a world wide reputation for advanced marketing methods, and Great Britain, which, until quite recently, has been very backward in that respect. My investigation was then rounded out in the fall of 1936 by a month spent in Canada, which is a country of special interest because of its proximity and similarity to the United States.
In these three countries, every opportunity was given me to study livestock marketing from the ground up. I spent days and weeks in local auction markets, in central or terminal stockyards, on packing house slaughtering and processing floors, and in the offices of farmers' representatives, packing house managers, and government men.
Subject Categories
Collections