High‐Sensitivity Air‐Coupled Ultrasonic Imaging with the First‐Order Symmetric Lamb Mode at Zero Group Velocity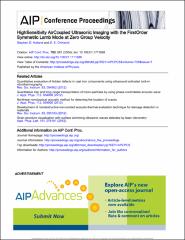 Abstract
A new method for high‐sensitivity non‐contact, through‐transmission, air‐coupled imaging of small material property changes or discontinuities in plates is demonstrated. Our approach exploits the excitation of the first‐order symmetric Lamb wave mode at its minimum frequency point of zero group velocity. Because this Lamb wave resonance couples energy extremely efficiently with the air and does not propagate energy in the plane of the plate, it is the dominant mode of transmission of an airborne focussed‐beam broadband impulse through the plate. We take advantage of the sensitivity of this mode by performing C‐scans at the frequency of the group‐velocity zero to image spatial discontinuities and property changes. Our results show that images measured at this frequency are more sensitive and more consistent than those measured elsewhere in the plate‐wave spectrum.
Comments
Copyright 2004 American Institute of Physics. This article may be downloaded for personal use only. Any other use requires prior permission of the author and the American Institute of Physics.
This article appeared in AIP Conference Proceedings, 700 (2004): 687–693 and may be found at http://dx.doi.org/10.1063/1.1711688.
Subject Categories
Copyright
Thu Jan 01 00:00:00 UTC 2004
Collections