Resolving latent conflict: What happens when latent print examiners enter the cage?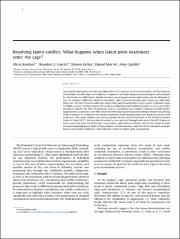 Department
Center for Statistics and Applications in Forensic Evidence
Abstract
Latent print examination traditionally follows the ACE-V process, in which latent prints are first analyzed to determine whether they are suitable for comparison, and then compared to an exemplar and evaluated for similarities and differences. Despite standard operating procedures and quality controls designed, in part, to mitigate differences between examiners, latent print processing and review are inherently subjective. The ACE-V process addresses subjectivity, and the possibility of error, in the verification stage in which a second examiner repeats the analysis, comparison, and evaluation steps in a given case. Other procedures outside the ACE-V framework, such as consultation and conflict resolution, provide further opportunity to understand how differences between latent print examiners emerge. Despite the growing body of research on latent print examination, questions have emerged about how these procedures work in practice. This study reviews case processing data for two years of casework at the Houston Forensic Science Center (HFSC). We describe these data as cases proceed through each step of the ACE-V process, with a particular focus on verification, consultation, and conflict resolution. We discuss trends in these processes regarding modal types of disagreements, modal outcomes, and roles of the examiners involved. Results reveal implications for improving the practice of latent print examination.
Comments
This is a manuscript of an article published as Rairden, Alicia, Brandon L. Garrett, Sharon Kelley, Daniel Murrie, and Amy Castillo. "Resolving latent conflict: What happens when latent print examiners enter the cage?." Forensic science international 289 (2018): 215-222. Posted with permission of CSAFE.
Subject Categories
Copyright
Mon Jan 01 00:00:00 UTC 2018
Collections