Consumers of charity bracelets: cause-supporters or fashion-followers?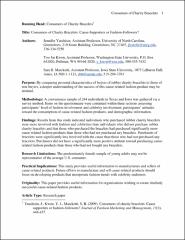 Department
Apparel, Events and Hospitality Management
Abstract
Purpose – The purpose of this paper is to compare personal characteristics of buyers of rubber charity bracelets with those of non-buyers so that a deeper understanding of the success of this cause-related fashion product may be attained.
Design/methodology/approach – A convenience sample of 244 individuals in Texas and Iowa was gathered via a survey method. Items on the questionnaire were contained within three sections: assessing participants' level of fashion involvement and celebrity involvement; participants' attitudes toward the consumption of cause-related fashion products; and demographic information.
Findings – Results from this study indicated individuals who purchased rubber charity bracelets were more involved with fashion and celebrities than individuals who did not purchase rubber charity bracelets and that those who purchased the bracelets had purchased significantly more cause-related fashion products than those who had not purchased any bracelets. Purchasers of bracelets were significantly less involved with the cause than those who had not purchased any bracelets. Purchasers did not have a significantly more positive attitude toward purchasing cause-related fashion products than those who had not bought any bracelets.
Research limitations/implications – The predominately female sample of young adults may not be representative of the average US consumer.
Practical implications – This study provides useful information to manufacturers and sellers of cause-related products. Future efforts to manufacture and sell cause-related products should focus on developing products that incorporate fashion trends with celebrity endorsers.
Originality/value – This paper provides useful information for organizations wishing to create similarly successful cause-related fashion products.
Comments
This is an author's final manuscript from Journal of Fashion Marketing and Management 13 (2009): 448–457, doi:10.1108/13612020910974546.
Subject Categories
Copyright
Thu Jan 01 00:00:00 UTC 2009
Collections