The House Price Impacts of Corporate Headquarter Relocations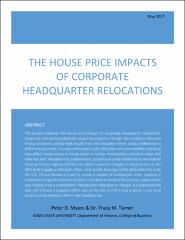 Supplemental Files
Series
Honors Projects and Posters
The Honors project is potentially the most valuable component of an Honors education. Typically Honors students choose to do their projects in their area of study, but some will pick a topic of interest unrelated to their major.
The Honors Program requires that the project be presented at a poster presentation event. Poster presentations are held each semester. Most students present during their senior year, but may do so earlier if their honors project has been completed.
This site presents project descriptions and selected posters for Honors projects completed since the Fall 2015 semester.
Abstract
This project examines the house price impacts of corporate headquarter relocations. Corporate relocations potentially impact house prices through the increase or decrease in local economic activity that results from the relocation event. Using a difference in difference approach, I compare the impacts of a relocation on a metropolitan statistical area (MSA) house prices to similar metropolitan statistical area house prices that have not seen relocations by corporations. Local house price indexes from the Federal Housing Finance Agency (FHFA) are used to examine changes in house prices at the MSA level to gage a relocation effect. Data on the housing market characteristics from the U.S. Census Bureau is used to create a sample of comparison cities. Analysis is conducted using data before and after a relocation to analyze house prices appreciation rate impacts from a corporation's headquarter relocation or merger during the 2010 to 2016 time period. It is expected that data will indicate a negative effect due to the exit of a firm and a boost to the local economy that receives a firm's new headquarters.
Subject Categories
Collections