Foliar fungicides in alfalfa production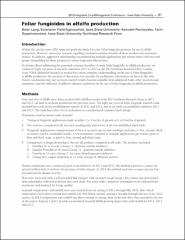 Altmetrics
Series
Proceedings of the Integrated Crop Management Conference
The Iowa State University Integrated Crop Management Conference is Iowa's premier crop production education event. No other program in Iowa brings together the diverse range of topics, slate of expert presenters and results of the latest University research.
The ICM Conference offers workshops focusing on the latest in crop production technology. Experts from Iowa and surrounding states will provide research updates and results in soil fertility, soil and water management, crop production and pest management.
Abstract
Within the last few years, EPA approved pesticide labels for a few foliar fungicide products for use in alfalfa production. However, university research regarding potential economic benefits of these products are extremely limited. In addition, aggressive salesmanship recommending multiple applications per season raises concerns with proper stewardship for these products to insure long-term effectiveness.
Subject Categories
Collections