Anthracnose: The sophisticated rot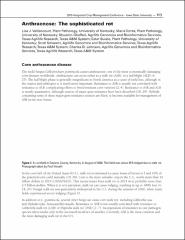 Altmetrics
Series
Proceedings of the Integrated Crop Management Conference
The Iowa State University Integrated Crop Management Conference is Iowa's premier crop production education event. No other program in Iowa brings together the diverse range of topics, slate of expert presenters and results of the latest University research.
The ICM Conference offers workshops focusing on the latest in crop production technology. Experts from Iowa and surrounding states will provide research updates and results in soil fertility, soil and water management, crop production and pest management.
Abstract
The mold fungus Colletotrichum graminicola causes anthracnose, one of the most economically damaging corn diseases worldwide. Anthracnose can occur either as a stalk rot (ASR), or a leaf blight (ALB) (4; 27). The leaf blight phase is generally insignificant in North America as a cause of yield loss, although in the tropics and subtropics it is much more important. Resistance to ASR is usually not correlated with resistance to ALB, complicating efforts to breed resistant corn varieties (2; 4). Resistance to ASR and ALB is mostly quantitative, although sources of major gene resistance have been described (10; 29). Hybrids containing some of these major-gene resistance sources are likely to become available for management of ASR in the near future.
Subject Categories
Collections