Consumer Behavior Concepts Identified by Students through Pinterest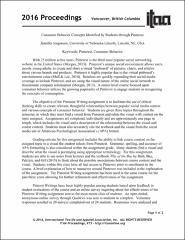 Series
International Textile and Apparel Association (ITAA) Annual Conference Proceedings
The first national meeting of textile and clothing professors took place in Madison, Wisconsin in June 1959. With a mission to advance excellence in education, scholarship and innovation, and their global applications, the International Textile and Apparel Association (ITAA) is a professional and educational association of scholars, educators, and students in the textile, apparel, and merchandising disciplines in higher education.
This site provides free, public access to the ITAA annual conference proceedings beginning in 2015. Previous proceedings can be found by following the "Additional ITAA Proceedings" link on the left sidebar of this page.
Abstract
With 25 million active users, Pinterest is the third most popular social networking website in the United States (Morgan, 2013). A senior-level course focused upon consumer behavior utilizes the growing popularity of Pinterest to engage students in recognizing the concepts of consumption. The objective of the Pinterest Writing assignment is to facilitate the use of critical thinking skills to create relevant, thoughtful relationships between popular social media content and various concepts of consumer behavior. Students are given three topics throughout the semester, in which they must find a visual from Pinterest and relate the visual with content on the topic assigned. Assignments are completed individually and are approximately one page in length, which includes the visual and a description of the relationship between the visual and course content. Students must also accurately cite the textbook and the visual from the social media site in American Psychological Association's (APA) format.
Collections