How do you connect? Comparing word-of-mouth and electronic word-of-mouth communication channel choice amongst generational cohorts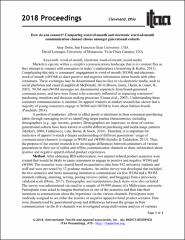 Series
International Textile and Apparel Association (ITAA) Annual Conference Proceedings
The first national meeting of textile and clothing professors took place in Madison, Wisconsin in June 1959. With a mission to advance excellence in education, scholarship and innovation, and their global applications, the International Textile and Apparel Association (ITAA) is a professional and educational association of scholars, educators, and students in the textile, apparel, and merchandising disciplines in higher education.
This site provides free, public access to the ITAA annual conference proceedings beginning in 2015. Previous proceedings can be found by following the "Additional ITAA Proceedings" link on the left sidebar of this page.
Abstract
The current research investigated differences between consumers of various generations in their use of online and offline communication channels to share information about positive and negative apparel-related product experiences. Two apparel-related product scenarios were created that would be likely to cause consumers to engage in positive and negative WOM and eWOM. An online survey was disseminated that included the two scenarios and items measuring intention to communicate via five WOM and e-WOM channels (talking, emailing, texting, posting online reviews, and blogging). The sample included 23 Millennials, 432 generation X, 348 baby boomers, and 102 silent generation consumers. Results indicated significant differences between generational cohorts in intentions to communicate via the five channels.
Subject Categories
Collections