Angular Spectrum Analysis Applied to Undercladding Flaws and Dipole Probes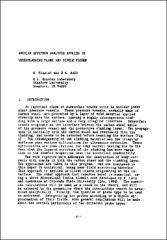 Series
Review of Progress in Quantitative Nondestructive Evaluation
Begun in 1973, the Review of Progress in Quantitative Nondestructive Evaluation (QNDE) is the premier international NDE meeting designed to provide an interface between research and early engineering through the presentation of current ideas and results focused on facilitating a rapid transfer to engineering development.
This site provides free, public access to papers presented at the annual QNDE conference between 1983 and 1999, and abstracts for papers presented at the conference since 2001.
Abstract
An important class of subsurface cracks occur in nuclear power plant pressure vessels. These pressure vessels, normally made of carbon steel, are protected by a layer of weld material applied directly onto the surface, leaving a highly inhomogeneoue cladding with a rough surface and a very irregular interface. Subsurface cracks originate at the interface between the carbon steel walls of the pressure vessel and the protective cladding layer. The propagation is initially into the carbon steel and eventually into the cladding, and needs to be detected before reaching the surface (Fig. 1). The inhomogeneity of the cladding material and the irregular surfaces pose serious difficulties for ultrasonic detection. These difficulties are less critical for eddy current testing due to the fact that the layered structure of the cladding has more variation in its elastic properties than its electrical conductivity.
Subject Categories
Copyright
Sun Jan 01 00:00:00 UTC 1984
Collections