Integration of Analytical Techniques into NDE Implementation and Management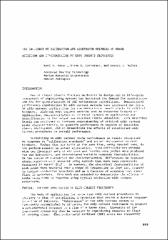 Series
Review of Progress in Quantitative Nondestructive Evaluation
Begun in 1973, the Review of Progress in Quantitative Nondestructive Evaluation (QNDE) is the premier international NDE meeting designed to provide an interface between research and early engineering through the presentation of current ideas and results focused on facilitating a rapid transfer to engineering development.
This site provides free, public access to papers presented at the annual QNDE conference between 1983 and 1999, and abstracts for papers presented at the conference since 2001.
Abstract
Analytical techniques have long been established as essential tools in design engineering and have, in many cases, been incorporated into analytical models that facilitate the testing of new design and design concepts without the time and expense of building physical models. The cost of changing a design increases dramatically after it is committed to production and subsequently increases at a higher rate after it is in service. Use of analytical models enables economical testing and optimization of multiple design concepts before commitment to production and/or service, thus significantly increasing the confidence in the performance of an engineering component, assembly or system and decreasing the cost of system application and implementation.
Copyright
Wed Jan 01 00:00:00 UTC 1986
Collections