The Role of Texture Development and Dislocations in Acoustoelasticity during Plane Deformation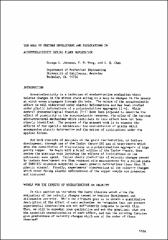 Series
Review of Progress in Quantitative Nondestructive Evaluation
Begun in 1973, the Review of Progress in Quantitative Nondestructive Evaluation (QNDE) is the premier international NDE meeting designed to provide an interface between research and early engineering through the presentation of current ideas and results focused on facilitating a rapid transfer to engineering development.
This site provides free, public access to papers presented at the annual QNDE conference between 1983 and 1999, and abstracts for papers presented at the conference since 2001.
Abstract
Acoustoelasticity is a technique of nondestructive evaluation which relates changes in the stress state acting on a body to changes in the speeds at which waves propagate through the body. The nature of the acoustoelastic effect is well understood under elastic deformations and has been studied under plastic deformations of a polycrystalline aggregate [1–4]. While several phenomenological theories [5–7] have been proposed to describe the effect of plasticity on the acoustoelastic response, the roles of the various microstructural mechanisms which contribute to this effect have not been clearly identified. The purpose of the present work is to examine the effects of two specific mechanisms: the reorientation of grains which accompanies plastic deformation and the motion of dislocations under the applied forces.
Subject Categories
Copyright
Sat Aug 01 00:00:00 UTC 1987
Collections