Thermal Wave Characterization of Semiconductors and Superconductors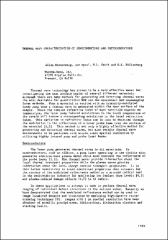 Series
Review of Progress in Quantitative Nondestructive Evaluation
Begun in 1973, the Review of Progress in Quantitative Nondestructive Evaluation (QNDE) is the premier international NDE meeting designed to provide an interface between research and early engineering through the presentation of current ideas and results focused on facilitating a rapid transfer to engineering development.
This site provides free, public access to papers presented at the annual QNDE conference between 1983 and 1999, and abstracts for papers presented at the conference since 2001.
Abstract
Thermal wave technology has proven to be a very effective means for investigating the near surface region of several different materials. Although there are many methods for generating and detecting thermal waves the most desirable for quantitative NDE are the noncontact and nondamaging laser methods. When a material is excited with an intensity-modulated laser pump beam a thermal wave is generated within the near surface of the sample. Since the complex refractive index of most materials depends on temperature, the laser pump induced modulations in the local temperature of the sample will induce a corresponding modulation in the local refractive index. This variation in refractive index can in turn be detected through the modulation in the reflectance of a laser probe beam from the surface of the material [1,2]. This method is not only a highly effective method for generating and detecting thermal waves, but also permits thermal wave measurements to be performed with micron scale spatial resolution by utilizing highly focused pump and probe laser beams.
Subject Categories
Copyright
Sun Jan 01 00:00:00 UTC 1989
Collections