An Adaptive Morphological Filter for Defect Detection in Eddy Current Aircraft Wheel Inspection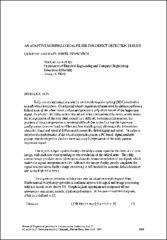 Series
Review of Progress in Quantitative Nondestructive Evaluation
Begun in 1973, the Review of Progress in Quantitative Nondestructive Evaluation (QNDE) is the premier international NDE meeting designed to provide an interface between research and early engineering through the presentation of current ideas and results focused on facilitating a rapid transfer to engineering development.
This site provides free, public access to papers presented at the annual QNDE conference between 1983 and 1999, and abstracts for papers presented at the conference since 2001.
Abstract
Eddy current technique is a widely used nondestructive testing (NDT) method in aircraft wheel inspection. Commercial wheel inspection systems used by airlines perform a helical scan of the wheel outer surface and produce a strip chart record of the inspection signal. In practice, the eddy current signals are often contaminated by noise, which makes the interpretation of the strip chart record very difficult In commercial systems, the problem of data interpretation is rendered difficult due to the fact that the hardware configuration (narrow band pre-filter and low sampling rate) eliminates the information about the shape and spectral differences between the defect signal and noise. In order to improve the performance of the wheel inspection system, a PC based signal analysis system was developed to obtain a more accurate interpretation of the eddy current inspection signal.
Subject Categories
Copyright
Thu Jan 01 00:00:00 UTC 1998
Collections