RCNDE Engineering Doctorate in NDE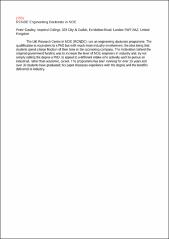 Series
Review of Progress in Quantitative Nondestructive Evaluation
Begun in 1973, the Review of Progress in Quantitative Nondestructive Evaluation (QNDE) is the premier international NDE meeting designed to provide an interface between research and early engineering through the presentation of current ideas and results focused on facilitating a rapid transfer to engineering development.
This site provides free, public access to papers presented at the annual QNDE conference between 1983 and 1999, and abstracts for papers presented at the conference since 2001.
Abstract
The UK Research Centre in NDE (RCNDE) runs an engineering doctorate programme. The qualification is equivalent to a PhD but with much more industry involvement, the idea being that students spend a large fraction of their time in the sponsoring company. The motivation behind the original government funding was to increase the level of NDE engineers in industry and, by not simply calling the degree a PhD, to appeal to a different intake who actively want to pursue an industrial, rather than academic, career. The programme has been running for over 10 years and over 30 students have graduated; his paper discusses experience with the degree and the benefits delivered to industry.
Subject Categories
Collections