Gender Differences and Similarities in the Relationship of Emotional Intelligence with Impulsivity and Self-Control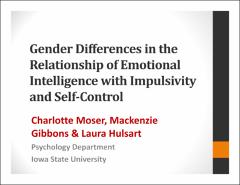 Series
Symposium on Undergraduate Research and Creative Expression
The Symposium provides undergraduates from all academic disciplines with an opportunity to share their research with the university community and other guests through conference-style oral presentations. The Symposium represents part of a larger effort of Iowa State University to enhance, support, and celebrate undergraduate research activity.
Though coordinated by the University Honors Program, all undergraduate students are eligible and encouraged to participate in the Symposium. Undergraduates conducting research but not yet ready to present their work are encouraged to attend the Symposium to learn about the presentation process and students not currently involved in research are encouraged to attend the Symposium to learn about the broad range of undergraduate research activities that are taking place at ISU.
The first Symposium was held in April 2007. The 39 students who presented research and their mentors collectively represented all of ISU's Colleges: Agriculture and Life Sciences, Business, Design, Engineering, Human Sciences, Liberal Arts and Sciences, Veterinary Medicine, and the Graduate College. The event has grown to regularly include more than 100 students presenting on topics that span the broad range of disciplines studied at ISU.
Abstract
Past studies have found that women have higher average scores on different dimensions of emotional intelligence than men (Taksic & Mohoric, 2006). There is also evidence that emotional intelligence predicts higher self-control and impulsiveness (West, 2013), but no past studies examined whether gender differences exist in these effects. The goal of this research was to explore if gender moderates the relationship of emotional intelligence with impulsivity and self-control. A cross-sectional survey study was conducted. The sample consisted of 582 young adults from Croatia (67% female, average age 20 years). The participants completed measures of emotional intelligence (EISCQ; Taksic, 1998, Taksic & Mohoric, 2006), impulsiveness (BIS-11; Patton, Stanford & Barrat, 1995), self-control (SCS; Tanganey et al., 2004) and demographic information. Women had significantly higher scores on emotional intelligence and lower scores on impulsivity than men. Gender differences were also found in how emotional intelligence relates to impulsivity and self-control. For women, emotional intelligence predicted lower impulsiveness and greater self-control. For men, emotional intelligence predicted higher self-control but was unrelated to impulsiveness. These findings support the predictions of emotion intelligence theory (Mayer, Salovey & Caruso, 2008) and suggest that emotional intelligence relates to increased self-control both among men and among women.
Subject Categories
Collections