A Laplace Transform Based Inverse Method for Flaw Characterization by Eddy Currents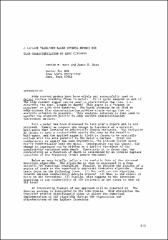 Series
Review of Progress in Quantitative Nondestructive Evaluation
Begun in 1973, the Review of Progress in Quantitative Nondestructive Evaluation (QNDE) is the premier international NDE meeting designed to provide an interface between research and early engineering through the presentation of current ideas and results focused on facilitating a rapid transfer to engineering development.
This site provides free, public access to papers presented at the annual QNDE conference between 1983 and 1999, and abstracts for papers presented at the conference since 2001.
Abstract
Eddy current probes have been widely and successfully used to detect surface breaking flaws in metals. It is quite natural to ask if the eddy current signal can be used to characterize the flaw, i.e. determine its type, length or depth? This paper is a "report in progress" on just this question. The basic strategy is to find an eddy-current flaw characterization problem simple enough that an analytic solution is possible. This analytic solution is then used to uncover the elements generic to eddy-current characterization (inversion) methods.
Subject Categories
Copyright
Sun Jan 01 00:00:00 UTC 1989
Collections