Coherent Reflection and Transmission by a Randomly Cracked Elastic Slab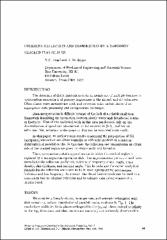 Series
Review of Progress in Quantitative Nondestructive Evaluation
Begun in 1973, the Review of Progress in Quantitative Nondestructive Evaluation (QNDE) is the premier international NDE meeting designed to provide an interface between research and early engineering through the presentation of current ideas and results focused on facilitating a rapid transfer to engineering development.
This site provides free, public access to papers presented at the annual QNDE conference between 1983 and 1999, and abstracts for papers presented at the conference since 2001.
Abstract
The detection of distributed microcracks in metals and of multiple fractures in hydrocarbon reservoirs is of primary importance in the aircraft and oil industries. Often elastic wave methods are used, and detection relies on the choice of an appropriate data processing and interpretation technique.
Subject Categories
Copyright
Thu Jan 01 00:00:00 UTC 1998
Collections